By: Nicholas Lianos
Happy 2019 to all. I hope everyone is having a relaxing break and re-charging the batteries. For me, and I suspect for many others, New Year is a good time for quite reflection of the year just gone.
There's certainly been changes in the Hard-Technical Maintenance Industry in Australia in 2018. As you may be aware Daikin and Fujitsu acquired Airmaster and Precise. These had been two private Australian companies which operate in our space.
Grosvenor is one of the biggest, privately-owned Australian business in our Industry. We are independent and technically agnostic. As CEO I've been peppered with questions on the changes and the ramifications for our market.
The honest answer is we're not sure yet…. One thing we do believe;
Both these highly reputable Japanese manufacturers have done this to get closer to the end users of their products. So, if this results in A/C equipment that better serves the needs of property owners and occupiers then this will be a positive move for all.
This leads me to talk about one thing we're more confident of: The great service organisations of tomorrow will be defined as ones that find ways to deliver greater value to end consumers. Yes, I realise this is hardly a revelation. However back in 1994, we at Grosvenor, attempted to define how this may be done. So, we created what we call the '5 Rules of Service'. It became our 'rule-book' on how to stay focussed on customers as our company grew and evolved.
We started applying the rules 24+ years ago. At the time we employed seven A/C technicians. It helped us examine our growth plans through the only perspective that matters in a service business like ours…. Impact on our customers and our employees.
– Will our growth plan impact our customers in a negative way?
– Will it create a conflict of interest with what a customer really needs?
– Will it create a conflict of interest with what an employee should recommend?
– Will a new acquisition or joint venture enable us to service our customers better?
If we believed a growth idea could have a negative impact, we didn't proceed. It was and still is applied; even if it forsakes short to medium term gains. In a service business, when you sit between customers and manufacturers, losing customer focus means 'death'.
We now employee 700+ people and service many thousands of buildings nationally. On that basis the '5 Rules' have served us well. They have stood the test of time.
So, what are our 5 Rules?
I've listed them below. I've also provided some perspective on how we apply them. I hope some of you may find this useful as you wrestle with your own growth ideas.
Please forgive the title: 'Rules for Organisational Greatness in the 21st Century'. The idealism and hubris of youth is to blame. 1994 was, after all, the year Grosvenor Engineering Group was born.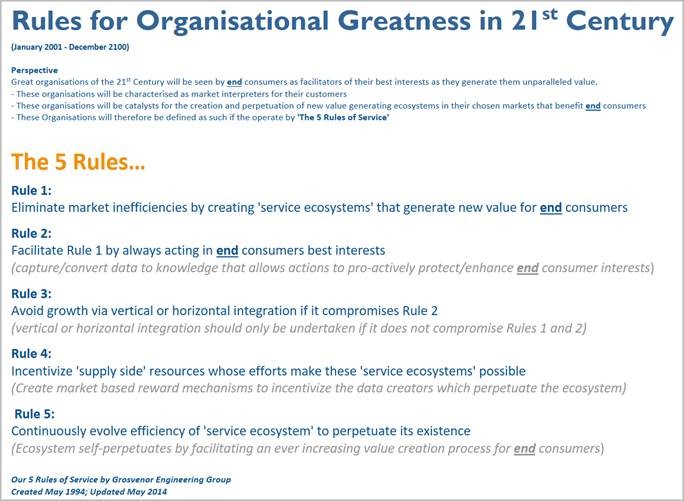 I've also taken this opportunity to explain how we measure success in applying the 5 Rules. What follows is a bit Grosvenor centric but may nonetheless be of interest.
We track the percentage for reactive revenue from our total revenue. This bit comes from building occupants complaining about their building's indoor environment. Think… A/C being too hot or cold; Fire Alarms going off without reason, etc. I'm sure you can all relate!!
Why categorise it as 'Reactive' Revenue? Because, we're reacting to our customers placing calls for emergency service. Not good!!! 'Reactive' Revenue is one element of revenue we try to reduce year-on-year as a share of total revenue. Yes! We celebrate reductions in reactive revenue and profit.
It's a great KPI. It highlights whether we are getting more pro-active in servicing our customers. It also shows whether our 5 Rules are being applied correctly as we grow year-on-year.
Anyway, that's enough reflection for one day. I hope it's of interest. I'd like to extend my warmest wishes to everyone and good luck for 2019.
Take care!!
With Regards
Nicholas Lianos
Grosvenor Engineering Group
January 10, 2019 12:04 pm